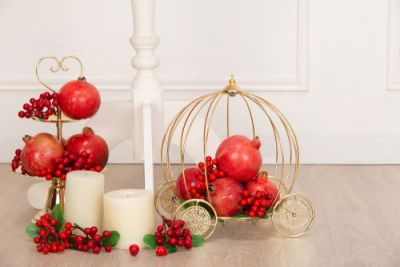 We're almost there! Part III of our series takes us the rest of the way through December.
December 16–24, Posadas Navideñas: Hispanic Catholic, Protestant
The Spanish word posada translates to "inn" in English, and the Posadas Navideñas celebration reenacts Mary and Joseph's fruitless search, as recounted in the Bible, for room in an inn where Mary could give birth to Jesus. In virtually all Spanish-speaking countries and Hispanic communities in the US and elsewhere, Posadas Navideñas parades occur almost every night between December 16 and December 24. Generally, children dressed as Mary and Joseph, with "Mary" often riding a live donkey, lead the parade around the neighborhood. Everyone sings Christmas carols, and "Joseph" knocks on door after door, only to be turned away. Finally a predesignated church opens its doors to the parade participants — probably sans the donkey — and after Mass, a party ensues. Blindfolded children traditionally swing sticks at suspended paper mâché piñatas that spill forth their candy and other treats when finally split open.
December 21, Solstice: Wiccan, Pagan
December 21 is the winter solstice, the shortest day and longest night of the year in the northern hemisphere. This is therefore the day when Wiccans and Pagans celebrate Yule, the festival celebrating the return of the sun god. Festivities generally include large bonfires that symbolize the light and heat that the sun provides. Celebrants dance and sing around these fires and often give each other gifts.
December 22, Yalda: Zoroastrian
Yalda is the Zoroastrian celebration of the winter solstice. Families and friends gather together on this evening to stay up well past midnight eating nuts and fruits such as watermelon and pomegranate. In some families, tradition dictates that 40 varieties of food should be served. Celebrants also read poetry, especially the Hafez, tell stories, and often dance.
December 23–30, Hanukkah: Jewish
Hanukkah, a/k/a Chanukah, is the Jewish Festival of Lights, an eight-day celebration commemorating the Maccabean revolt in Egypt in 167–160 BCE. Celebrants light candles in the Menorah, one each night, until finally on the eighth night, all eight candles are lit. They use a special ninth candle, the shamash, to light the other eight. Traditional blessings are said and traditional songs sung during and after these nightly ceremonies. Another tradition involves eating foods, particularly potato latkes (pancakes) fried in oil. Children spin dreidels, four-sided tops containing the Hebrew symbols for the message "a great miracle happened there." Children also receive gelt (money gifts), rewarding them for their good behavior and study of the Torah.
December 25, Christmas: Catholic, Protestant, Secular
Finally, Christmas is here! What can you say about the biggest and most universally celebrated holiday of the year that hasn't already been said? So many things are thoroughly associated with Christmas, including the following:
Decorated and lighted Christmas trees
Stockings hung on the fireplace mantle
Wreaths on the doors
Outside decorations
Mistletoe hanging overhead underneath which people must kiss
Home-baked Christmas cookies and candy
Wrapped presents
Scented candles
Family dinners reminiscent of Thanksgiving
December 26–January 1, Kwanzaa: African-American, Secular
Perhaps the youngest December holiday is that of Kwanzaa. Maulana Karenga, an African-American activist, author, and professor of African studies, created it in 1966 to celebrate African-American culture and its seven principles of self-determination, unity, collective work and responsibility, purpose, cooperative economics, faith, and creativity.
December 31, New Year's Eve: Secular
New Year's Eve is undoubtedly the biggest party night of the year around the world. It celebrates the ending of one year and the beginning of the next. Huge celebrations abound, such as the dropping of the ball in Times Square in New York City.
That concludes our summary of many of the holidays celebrated in November and December. Take time to learn more about the traditions with which you are unfamiliar and join in celebrations for two months straight!