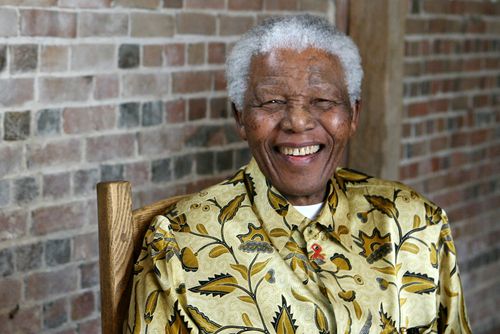 "It is easy to break down and destroy. The heroes are those who make peace and build." Nelson Mandela    
Here in the United States, July is best known for Independence Day. July 4 is remembered and celebrated as the day that the colonies declared their independence from England. But without another federal holiday until the first Monday in September, you may want another reason to celebrate. Nelson Mandela's birthday on July 18 is an international holiday that was created by the United Nations to remember the man and that "each individual has the power to transform the world, the ability to make an impact."
Who Was Nelson Mandela?
Mandela is usually remembered for serving as the first president of South Africa, from 1994 through 1999. He was the first Black head of state of the country. How he got there is amazing, considering the history of South Africa. He was born in 1918. He studied law and worked as a lawyer before getting involved in politics. South Africa had a white-only government, and Mandela began working against racial segregation in the 1940s. He was arrested and prosecuted multiple times before being imprisoned for life in 1962. His crime was conspiring to overthrow the state.
Although Mandela was imprisoned, others continued to push to abolish apartheid. In 1990, Mandela was released from prison, amidst fears of a racial civil war in South Africa. Mandela worked with the current state president, F.W. de Klerk, to negotiate an end to apartheid in the state, which led to the national election in 1994, when Mandela was elected as president.
Mandela was a controversial figure for many years. Some believed him to be a communist terrorist. Others thought he was too quick to negotiate an end to apartheid. One of his greatest honors was receiving the 1993 Nobel Peace Prize, but his list includes more than 250 more honors that came from his work to unite South Africa. He is usually described as "Father of the Nation," much like Americans revere George Washington.
Mandela's Legacy
Mandela retired in 1999 from political life, but his work never ended. He founded the Nelson Mandela Foundation to focus on social justice in South Africa, especially combatting HIV/AIDS. He became more active in international policies until his death in 2013, at which time the country publicly mourned for 10 days. Over 90 heads of state from around the world attended his funeral, as he was considered a global icon. His name is synonymous with democracy and peace, and in some ways, he is regarded as a saint. That's not to say that his life wasn't complex. He didn't speak up against some human rights violations when he could have. He was friends with political leaders who were deemed dictators. It might have been that he thought he would have more influence by promoting peace instead of condemnation.
Spend 67 Minutes To Promote Peace and Reconciliation
The message for Nelson Mandela Day is to spend one minute doing something productive for each year he fought for social justice. Mandela fought for his country for 67 years. Here are some ideas:
Visit cultural centers in your community to learn more about other races and religions.
Be kind and help your neighbors.
Reduce your carbon footprint.
Write a blog, newspaper article or social media post that promotes peace and kindness.
Volunteer in your community.
Attend city council meetings.
Study conflict resolution or nonviolence.
Read books about peace or watch a movie about peaceful leaders.
Create art to promote peace.
Mandela once said, "For to be free is not merely to cast off one's chains, but to live in a way that respects and enhances the freedom of others." Mandela was probably the world's most famous prisoner. Remember him this month on his birthday to promote peace within your own circle.