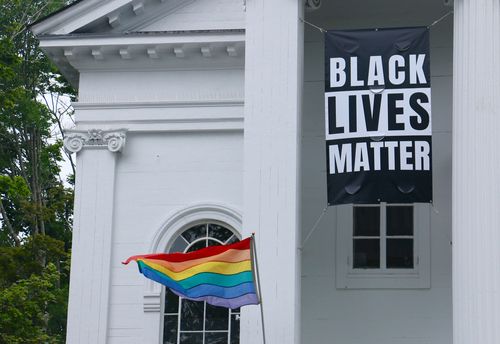 In "Dear Church," Lenny Duncan, a Black pastor in the ELCA, addresses racial inequities within his denomination. These same inequities exist in many religious institutions. To be a place that welcomes people of all races, ethnicities and nationalities, it is likely your church has some work to do.
Incorporate Studies on Racial Equity Into Your Curriculum
As discussed in "How To Be an Antiracist" by Ibram X. Kendi, the opposite of being racist isn't simply not being racist; it's being actively antiracist. Many people in your congregation, particularly those who are relatively new to the discussion of racial equity, won't know where to begin. Education is the way to start the work. Use this list of resources to build an antiracist curriculum. Be intentional about sponsoring book club meetings where these selections are discussed. If your church sends a newsletter out regularly, make sure some of these links are included in every edition.
Empower People of Color
Once your congregation begins reading about how to do antiracist work, it may have to face the uncomfortable truth that there are not a lot of people of color on the roster of your church, must less in leadership. While it is important to rectify this disparity, it is probably not a change that will happen quickly. In the meantime, hire POC speakers who have messages that are tailored to churches and the things they can do to build a community that reflects the greater diversity of the surrounding area. You can also empower POC through your purchases. Rather than ordering books for your studies through a large corporation, why not get them from independent Black-owned bookstores instead?
Provide Diverse Resources for Children
It is a popular notion that children do not see color, but anyone who has been around children knows how observant they are. They do notice differences; they just don't inherently fear them as many adults have learned to do. The goal for raising children in racial equity is to help them hold on to the curiosity without teaching them to turn it into suspicion. A simple way to do this is by stocking your children's library with diverse selections. Children learn values through stories, so seeing characters of all races, abilities and orientations helps to normalize the rich diversity of the world for them, even if the people in their own circles are racially homogenous. If your church is predominantly white, make an effort to partner frequently with other groups that are more diverse to ensure that children have the experience of interacting with people who don't look like them.
Develop an Action Plan
It is not enough to read about racial equity; everyone must act. Historically, the church has been on the front lines of fighting racial injustice. That isn't always the case anymore. To continue to work for a world where racial equity is the norm and not something we are constantly striving to attain, the church must be diligent about remaining in the fight. Encourage members to speak their minds to the city council when unfair local policies are revealed, to vote for people who stand against racism and to engage in nonviolent protest when necessary. While church leaders may not believe it's their place to tell people how to vote or what specific causes to support, it is certainly the work of the church to remind members of their call to be good stewards of their resources and to use those resources to promote just practices in their community and the world.
Doing antiracist work is not always comforting, but it is necessary for justice to prevail, not just in the world but in your faith community itself. The church should always be looking for ways to spread the good news that God's love is for everyone, not just people who look a certain way.