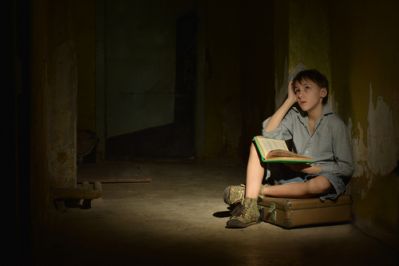 October is National Domestic Violence Awareness Month, but the Senate Judiciary Committee has probably brought more awareness about sexual violence than any other event this year. It's been a difficult time for victims. If you need immediate assistance, you can call The National Domestic Violence Hotline at 1-800-799-7233 or go to their website at TheHotline.org for online chat help. We'd like to offer this booklist to help victims and survivors take the next step in their journey of healing.
"The Gift of Fear: Survival Signals That Protect Us from Violence" by Gavin de Becker
Empower yourself to spot the subtle signs of danger with this book from the nation's expert on violent behavior. De Becker shatters the myth that violence is unpredictable. Any vulnerable individual can learn how to act when approached by a stranger and what to do if you're being stalked. There are signs of violence, but many people simply overlook or miss them.
"Your Life After Trauma: Powerful Practices to Reclaim Your Identity" by Michele Rosenthal
This book is great for anyone who suffers from PTSD or trauma, whether it was a single-incident or chronic abuse, illness or war. Trauma inhibits a person from reaching their full potential, because victims don't feel safe or stable, which prevents healing. You can find healing, but you will need to understand how trauma affects your brain. This book was written by a professional who really understands PTSD.
"Invincible: The 10 Lies You Learn Growing Up with Domestic Violence, and the Truths to Set You Free" by Brian F. Martin
The cycle of abuse is awful. When you grow up with abuse, it's easy to get into the same patterns as an adult. Reclaiming your life is paramount to healing. Martin exposes the lies you've been told as a child and guides you to the truth. Go from hopeless to guided, unloved to loved and worthless to accomplished as you work through the chapters in this book.
"It's My Life Now: Starting Over After an Abusive Relationship or Domestic Violence" by Meg Kennedy Dugan
Leaving an abusive relationship doesn't end the nightmare. People who have never experienced a violent relationship don't often understand the difficulties faced by survivors once they're out of the situation. This guide is often described as a working manual for survivors, but it's also a good resource for those who are helping survivors.
"Boundaries After a Pathological Relationship" by Adelyn Birch
Many victims forget how to set boundaries after a bad relationship. This book can help you be more confident in setting up personal space while improving relationships that you do want to continue. Abusers are very manipulative, especially with vulnerable people. Putting Birch's advice into practice can prevent a person from becoming revictimized and repeating the abusive patterns.
"The Price of Safety" by Sara Shoener
This book is more about the resources available for survivors of domestic violence or intimate partner violence. It's actually about the survivor's experience with different resources, to see what helped and what didn't. Shoener investigates the long-term effects that domestic violence has on a person's career, social relationships and economic development. For new survivors, this book could be triggering.
"To Be an Anchor in the Storm: A Guide for Families and Friends of Abused Women" by Susan Brewster
We'll finish out this list with a resource for loved ones who are watching someone in a DV situation. Brewster is a survivor herself. She helps you understand the situation and handle negative feelings. This book can take you from being a rescuer to being an anchor. You want the DV victim to be empowered because he or she has to own their journey of healing.