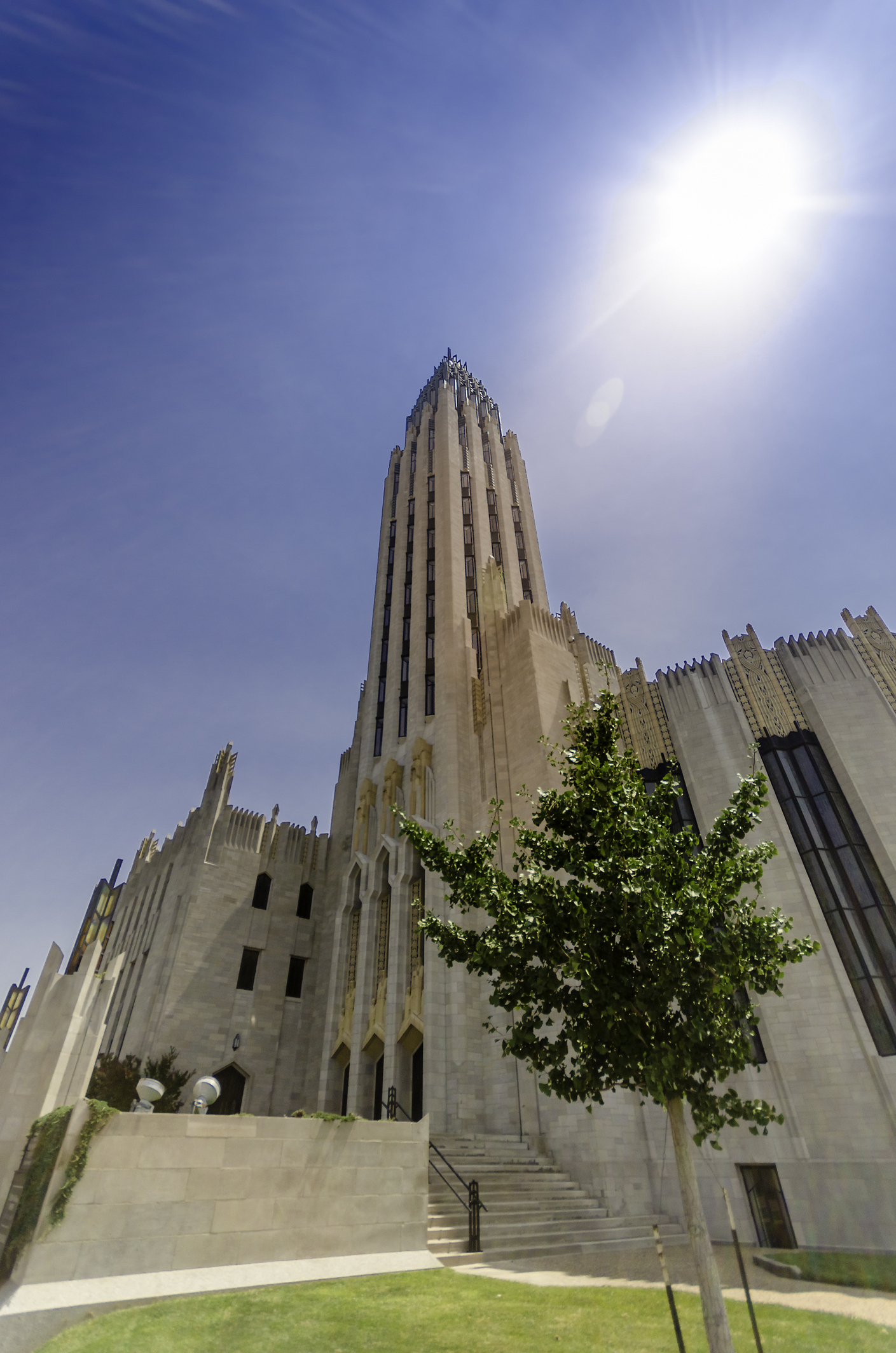 Oklahoma is part of the Bible Belt, an informal region of the southern United States in which Christianity has played an important role in society and politics. It's estimated that there are more than 3,500 churches in the state. Although many of these churches do not have a long history, they are beautiful pieces of architecture that have withstood oil booms and oil busts.
First United Methodist Church
The UMC congregation was organized in 1886, when Tulsa was a cattle town and not yet part of the United States. The current Gothic Tudor building was built in 1921. The most recognizable features are the two spires, or towers, flanking the great west window, an enormous work in stained glass that is absolutely amazing.
St. Francis Xavier Catholic Church
This church was built in 1926, after Oklahoma became a state. The building is more traditionally Oklahoma than Catholic cathedral, but it is stunning to look at. The sanctuary has a modern feel, for a Catholic Church. If you get a chance to attend services in Oklahoma, you should make a stop here.
Boston Avenue Methodist Church
This church is probably one of the best examples of Art Deco architecture in the United States. It was built in 1929, and now finds itself a National Historic Landmark. The building has many unique features that pull from the past while being innovative. It houses a large collection of sculptures and artwork. In 1962, the church dedicated its 105 rank Moller pipe organ, which was later expanded. It is a stunning building with many surprises to explore.
St. James Episcopal Church
Technically, St. James Episcopal Church is in Wagoner, but we think that's close enough to Tulsa to count. Although this building isn't as spectacular as the Boston Avenue Methodist Church, it's the oldest Episcopal church in Oklahoma that is still in use. It was built in 1894, 13 years before Oklahoma became a state. The red door invites everyone to worship and makes it stand out in the rural town where it stands.
Praying Hands Sculpture, Oral Roberts University
This sculpture is the largest bronze sculpture in the world. The hands stand 60 feet high and weigh 30 tons. Originally, the hands stood in front of a medical center dedicated to faith healing, but were later moved to the entrance of the university. It's hard to imagine their magnitude unless you get up close. They are a stunning piece of artwork that makes up the history of religion in Tulsa. Tour the campus, if you get a chance, because the buildings are beautiful.
Mount Zion Baptist Church
The history of Mount Zion is touching. The congregation was organized in 1909. It was known as the church that faith built. A new church was built and finished in 1921. Sadly, just a few months after the building was finished, Tulsa experienced the worst race riot in history. A young black man was accused of assaulting a young white girl. The incident escalated into a white lynch mob. Within about a 24-hour time period, a thriving black community would be reduced to ashes. It's estimated that at least 23 black churches were burned to the ground, as were most homes and businesses in the community.
The church had a $50,000 mortgage on it, but it was rubble. The leaders decided to pay off the loan. It would take over 20 years, but the congregation eventually paid off the debt. The church then looked toward building a new sanctuary, which would be dedicated in 1952. The church is now listed on the National Register of Historic Places. It's a fitting memory for the congregation that would not be stopped. The theme of their 100th anniversary celebration was "we have come this far by faith."