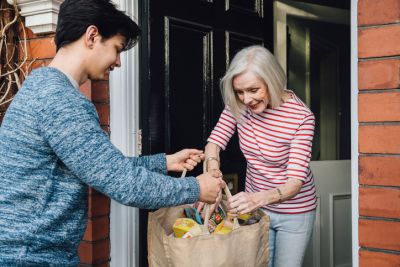 In 1988 President Ronald Reagan issued a letter of support for Youth Service America's (YSA) "A Day in the Life of Youth Service" event. This year, YSA celebrates the 30th anniversary of Annual Global Youth Service Day (GYSD). Over the weekend of April 20, young people across America and around the world will address real-world needs in their community through service work and kind acts.
This year's theme for GYSD is "Be Fearless Be Kind." Almost 400,000 people have signed the pledge with YSA:
I pledge to be fearless and kind
To be inclusive
To stand up for those who need my help
And to make a difference whenever I can, wherever I can, because I can!
YSA has a goal of activating over 500,000 young people in the current school year through 10,000 youth-led projects.
Get Kids Involved
Although YSA focuses on young people 25 years old or younger, the organization offers tips for adults to get kids involved in service. Their booklet doesn't just encourage young people to volunteer but to find their passion and plan an effective event. The planning information helps youth find a cause that they want to support by identifying why they want to see change. Rather than just jumping into a project, YSA encourages youth to identify their talents, passions and assets.
Using this information, young people can channel their ideas into an action strategy. Although many people typically think of service as volunteering, but YSA offers other possibilities:
Awareness: Young people educate and share information to make positive changes in the community. Examples include teaching families how to prepare healthy meals or discouraging smoking.
Service: Youth use their time and talents to directly meet the needs in the community. This could include ideas such as tutoring, cleaning up parks or planting a community garden.
Advocacy: Speaking out to policy makers to change laws is a form of advocacy. Taking part in marches, protests and voter education are all examples of advocacy.
Philanthropy: Raising money for disaster relief or to send overseas for mosquito nets are ways youth can provide financial assistance. Philanthropy is about collecting money or in-kind support for an organization.
Planning effectively dramatically improves the rate of success for any service project, which encourages youth to try again. YSA offers a "Changing the World Toolkit" for youth, educators and parents to help bring the idea to a reality.
Although it might be hard to plan something really big this year for GYSD, there is time to join in with an already planned event in your community. Watch for events in your local area through the school or your church. Watch the YSA's social media pages to see the impact of GYSD in 2018.
Volunteering Offers a Sense of Achievement
The ULC encourages readers to volunteer for all the benefits. It's fun to work together to make a change. Volunteering helps a person gain confidence while learning new skills. When you volunteer, you become part of the fabric of the community. It's not only about making a difference, but about appreciating the efforts of others. The benefits of volunteering aren't limited to adults. Youth have a lot to offer their community, they often just need a push in the right direction.
Get your youth involved in GYSD to spread empathy and kindness in your community. Whether or not you can get involved on the actual weekend, don't stop with one or two days. Volunteering helps a student's resume stand out in school and job applications. It demonstrates ambition, hard work and concern about the community. Volunteering can also help a young person find their passion, which can help them make better choices in their career path.