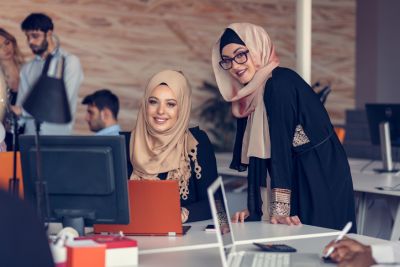 April is designated Arab American Heritage Month. Although many are familiar with Arab people in the entertainment industry, such as Hoda Kotb, Kathy Najimy and Shannon Elizabeth, there are many other Arab American women who are inspiring dialogue about Muslim cultures and traditions. Celebrate this month by attending a festival that celebrates the Arab heritage. Phoenix, Washington, DC, and Seattle are just three major cities in the US that host events. If you're near Detroit, MI, visit the Arab American National Museum that is devoted to Arab American history and culture. Take a look at these women who are trying to make the world a kinder place for Muslim women.
Rana Abdelhamid
Ms. Abdelhamid is a social entrepreneur from Queens, NY. Her most notable project is Hijabis of New York, which can be found on Facebook and Tumblr. It's modeled after the Humans of New York project but with an emphasis on Muslim women. However, that project is just a small aspect of Ms. Abdelhamid's social activism. She is the founder of the Women's Initiative for Self Empowerment. WISE is a self-defense, leadership and entrepreneurship program for young women that started out in New York City, but now has chapters throughout the world. Her work is empowering Muslim women everywhere.
Dr. Mona Hanna-Attisha
The Flint, MI, water crisis is still making headlines, but it's usually forgotten that it was Dr. Hanna-Attisha who was the whistleblower. Although she was born in England, her parents were Iraqi scientists who fled the country during Saddam Hussein's regime. The family move moved to Royal Oak, MI, a suburb of Detroit. Time Magazine named Dr. Hanna-Attisha one of the Most Influential People in 2016, but that's just one of her many awards for activism. She's been called a "bad-ass" because she defied conventions to bring attention to the Flint water crisis even when her work was being ridiculed by other scientists.
Lisa Vogl
Ms. Vogl is an award-winning international fashion photographer who began her career working with modest fashion brands. After she converted to Islam, she set out to solve a fashion problem. Affordable, fashionable and modest clothing were hard to find. It wasn't only Muslim women who felt this way. Ms. Vogl launched the Verona Collection to create and sell modest and affordable fashion. In February, Macy's launched the brand in their stores. Ms. Vogl is making modest clothing mainstream in the US, offering women of any culture the opportunity to be fashionable and modest.
Mona Haydar
Ms. Haydar is a Syrian-American poet and activist from Flint, MI. Although her music isn't mainstream yet, she's definitely making a name for herself in the industry as a feminist rapper. Her debut song, "Hijabi (Wrap My Hijab)" was named one of 2017's top protest songs by Billboard critics. Ms. Haydar faces many difficulties in breaking into the music industry but she's not letting anything stop her. Her music celebrates women, diversity and love. In her second single, she raps against the men in positions of authority who prey on women in the name of religion. Ms. Haydar's lyrics also address the idea that the hijab is an oppressive tradition. Watch her music videos on YouTube and look for an album to be released this year.
Sherrie Miday
Ms. Miday serves as a judge in the Cuyahoga County Court of Common Pleas in Ohio, which is the largest county court in Ohio. Her father was a Coptic priest in Egypt before emigrating to the United States. It's believed that Judge Miday is the first Egyptian-American elected as a judge in US history. Although her critics fired off many bigoted remarks during her campaign, she rose above the accusations of bringing Sharia law into the courtroom and serves honorably in the court.