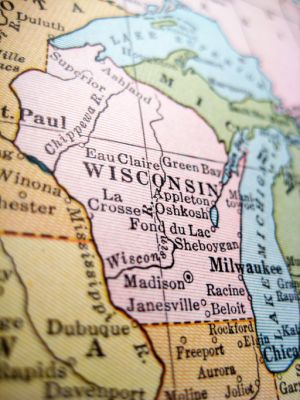 The state of Wisconsin is known as America's Dairyland, famous for its cheese production. There's much more to the state than just cheese, the Green Bay Packers and Milwaukee Brewers. Wisconsin gained statehood in 1848. It was a free state from the start, and many of its most prominent citizens were abolitionists. It has a rich heritage of many ethnicities, from Native Americans, Scandinavians, Germans to Hmongs. In the summer, you'll find an array of music festivals celebrating the diverse ethnic heritage of the state. Christianity might be the predominant religion in Wisconsin, but there are many other religions represented within its borders. Here are a few of the most prominent religious sites that you should plan to visit.
Rudolph Grotto Gardens, Rudolph
Father Philip Wagner became very ill when he was studying to become a priest. He promised to build a shrine to honor Mary, Christ's mother, if his health was restored. Once he was ordained and assigned to the church in Rudolph, Wagner wanted to build a new church in the village. Never mind that he had no experience in building or in masonry. He started planting trees and creating the shrine. The work began in 1919. The last project was completed in 1983, many years after Father Wagner died in 1959. Today, the gardens are a place of peace and harmony. The Wonder Cave is absolutely stunning with a passageway that features 26 shrines that are patterned after the Roman catacombs.
Dickeyville Grotto, Dickeyville
This site was built between 1920 and 1930. Most of it is religious in nature, but it does have a patriotism shrine, which demonstrates that Catholics can be patriotic, even though they are loyal to the Pope. This grotto is not the largest in the Midwest, nor does it have the longevity of other grottoes. What it does have is humble materials used in covering the surfaces of the grotto. Broken glass, petrified wood and seashells highlight every surface. This grotto has inspired many other sites and modern-day works.
Holy Hill National Shrine of Mary, Help of Christians, Hubertus
The Romanesque Revival basilica might be the most prominent feature at this site, but there's much more to this place than just a beautiful church. This hill is one of the highest points in southeastern Wisconsin. Irish settlers first named the place Holy Hill in the mid-1800s, but Native Americans considered it a sacred place for many decades before. Plan to visit in the summer to climb the Sky Tower to get a beautiful panoramic view of the Kettle Moraine area. It's just 178 steps up to enjoy this stunning view.
St. Adalbert's Church, Milwaukee
This church is just 110 years old, young by some standards, but it is a beautiful example of Polish-inspired Romanesque Revival architecture. It's most known for its stained-glass windows. One of the towers resembles a church in Cracow, Poland. Some believe that the church and school are haunted by a male apparition. Sometimes, late at night, strange sounds can be heard in the basement.
Cathedral of St. John the Evangelist, Milwaukee
This Milwaukee landmark was completed in 1852. The main building material is Cream City brick, a locally produced light-colored brick. Each of the 13 stained-glass windows are hand-cut by the T.C. Esser Company of Milwaukee. Sadly, a fire destroyed much of the church in 1935. It would take seven years to rebuild the cathedral. The interior of the cathedral was renovated in 2002 to bring it into a modern style. Although the renovation was controversial, the cathedral is still beautiful and holds much of its heritage. A local park is named for the cathedral, but has no other connection.