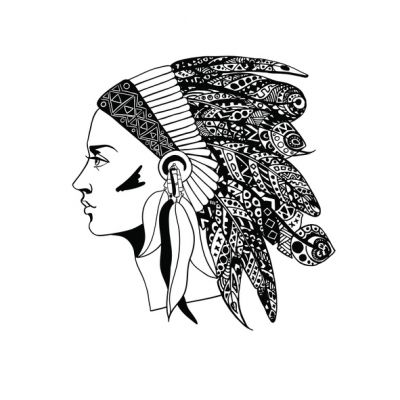 Wilma Mankiller is sometimes referred to as the first woman chief of a Native American tribe, and she was the first woman to be chief of the Cherokee Nation. Under her leadership, the Cherokee Nation population went from 55,000 to 156,000. Mankiller was an important woman to the Cherokees, in Oklahoma and the United States. Learn more about this woman who served her people and made a difference to thousands.
Mankiller was born in 1945. Her father was full-blooded Cherokee and her mother was American. The family had little money, 11 children and no land of their own. When Wilma was 11, her family relocated to San Francisco under the Bureau of Indian Affairs Indian Relocation Program. She married an Ecuadorian college student before settling in Oakland to raise her two daughters. Even though she was far from her home tribe, she got involved in San Francisco's Indian Center and volunteered for the Pit River Tribe.
Her marriage failed. In 1977, Wilma moved to back to Oklahoma and took an entry-level job with the Cherokee Nation. In a few short years, she moved up the political ladder in the Cherokee Nation. In 1983, she was elected deputy chief. When the principal chief resigned in 1985 to serve at the federal level, Mankiller succeeded him as the first female chief of the Cherokee. Two years later, the Cherokee elected her in her own right. In 1991, when she ran for the second time, it was a landslide. She collected 83 percent of the vote.
"Prior to my election, young Cherokee girls would never have thought that they might grow up and become chief."
Her Leadership
Although Mankiller was the chief of the Cherokee Nation, most of the other leaders were men. Traditionally, Cherokees included both men and women in positions of leadership. That was just one problem Wilma faced during her tenure. She said, "I've run into more discrimination as a woman than as an Indian." She never let that stop her, though. Under her leadership, the Cherokee Nation was revitalized through community-development projects.
Mankiller worked hard to improve infrastructure within the community. A hydroelectric facility was built and running water was provided to a small rural town. Tribal businesses were established to provide jobs and stability for the members of the tribe. Relations between the Cherokee Nation and federal government were strained. Mankiller was instrumental in improving dialogue between the two.
Her Legacy
Mankiller only served as tribal chief for 10 years. She chose not to run again in 1995 due to health problems. Still, in her tenure, she earned several awards:
Ms. Magazine's Woman of the Year, 1987
Presidential Medal of Freedom
Oklahoma Women's Hall of Fame Woman of the Year
John W. Gardner Leadership Award
In 1993, Mankiller was inducted into the National Women's Hall of Fame. Her work was honored by many different organizations in Oklahoma and the United States. Once she completed her tenure as chief, Mankiller became a guest professor at Dartmouth College. She also began to write.
Her first book, "Mankiller: A Chief and Her People" published in 1999, became a bestseller. If you're a reader, put it on your reading list to learn more about this woman. The film, "The Cherokee Word for Water," tells the story of the project that launched her career. You can find it on iTunes, but not on Amazon.
In 2010, she died of pancreatic cancer. President Obama said this about her: "As the Cherokee Nation's first female chief, she transformed the Nation-to-Nation relationship between the Cherokee Nation and the Federal Government, and served as an inspiration to women in Indian Country and across America. A recipient of the Presidential Medal of Freedom, she was recognized for her vision and commitment to a brighter future for all Americans. Her legacy will continue to encourage and motivate all who carry on her work."