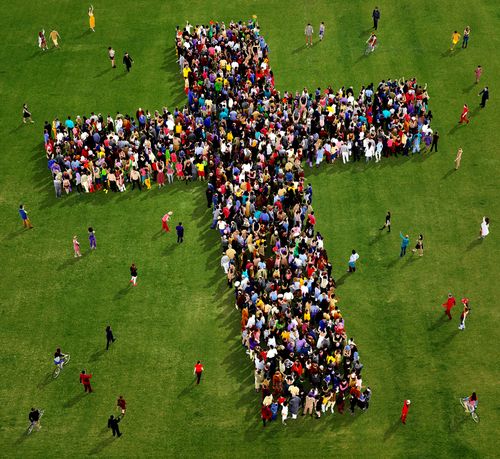 Most of the planning that a church does involves programs and services it offers. Many hours each week are spent on writing sermons, choosing texts and practicing music. There are many ways to practice faith, though, and not all of them occur on the church grounds. In fact, the more people of faith live out their beliefs in their everyday lives, the more beneficial the church as a whole will be to the world.
Song
Music is a big part of many worship services. A choir performs, the liturgy is sung or the whole congregation joins in praise through hymns or other spiritual songs. Music spreads joy and brings people together, and it doesn't need a church building to do it. A fun and easy way for people of faith to get involved in their communities is by supporting local musicians and other artists. Art is also a common outlet for calling out social injustice, so gathering to hear a band play may result in more than just having a good time. It may offer unique insight on the needs of the city.
Prayer
Cultivating a daily prayer life is crucial to many faiths. Whether you are seeking guidance for making a good decision, asking for help or expressing gratitude, remaining in a prayerful state as often as possible can have cathartic effects. It's easier to feel at peace if you remember that the divine presence is always with you. This mindset can also make you more acutely aware of the needs of others as you come across them.
Speech
From gentle messages of encouragement to fiery exhortations to rise up against wrongdoing, sermons are often the cornerstones of worship services. The sanctuary isn't the only place where the church should be speaking, though. People of faith often hide from contention, and in their silence, they may be seen as complicit in the problem itself. They should be the first ones to speak up when they notice someone being treated unjustly or see marginalized groups being oppressed.
Communion
In many religions, to be invited to eat together is an act of peace. Making an intentional space for a shared meal and including those who may feel isolated or alone is just as much the work of the church as the corporate services on Sunday morning. The busier life gets, the more important it is to take time to enjoy a meal together. What starts with a simple meal may even blossom into a thriving community that takes on a life of its own, offering both physical and spiritual nourishment for all who participate.
Giving
Tithing may be a nonnegotiable item in the family budget for people of faith, but how does that money actually serve the community? If you have the means, consider expanding your donations to include other groups that are doing good work in your city. When money is tight, you can give your time instead by becoming a regular fixture in the volunteer pool of your favorite local charity. There are many needs in your community, and most of them happen outside the church walls. You can enrich your faith practice by addressing these needs.
It's common for churchgoers to get in the habit of showing up once a week at services and not giving their faith much thought the rest of the week. If the church is going to be the force for good in the world that it's meant to be, however, more of its members need to find ways to practice faith every day. The basic elements of worship take on new life when they are set free from the confines of the sanctuary.