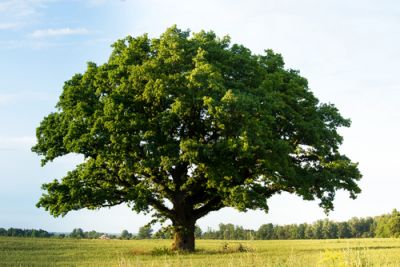 Sikhs around the world have pledged to plant 1 million trees this year to honor their religion's founder, Guru Nanak, and help the planet at the same time. Headed by EcoSikh, an environmental group headquartered in Washington, D.C., The Million Tree Project has already planted thousands of saplings in the US, UK, Australia, Kenya, and India since the project's launch in April 2019.
With approximately 81% of all Sikhs living in India, including the 76% in the state of Punjab, every single village in the state has pledged to plant its own 550-tree forest. Overall, 1,820 forests are envisioned worldwide, each to contain native species of shrubs and trees. Sikhs hope to have the project completed in time for the 550th birthday anniversary of Guru Nanak in November.
Guru Nanak
Guru Nanak, founder of Sikhism, was born on November 29, 1469, in present-day Nankana Sahib, Pakistan. Today his followers celebrate his birthday on Kartik Pooranmashi, the day of the full moon during the month of Katak, which occurs sometime during October or November.
Born a Hindu, Nanak established friendships with both Hindu and Muslim children. He also evidenced an early fascination with the meaning of life. When it came time for him to be invested with the sacred thread at age 13 as called for in traditional Hinduism, however, he refused to accept it, crying out instead:
"Let mercy be the cotton, contentment the thread, continence the knot and truth the twist. O priest! If you have such a thread, do give it to me. It'll not wear out, nor get soiled, nor burnt, nor lost. Says Nanak, blessed are those who go about wearing such a thread."
Three years later, he entered into an arranged marriage to Mata Sulakhani, the daughter of a pious Hindu merchant. Ultimately he moved her and their two sons, plus his Muslim musician friend Mardana, to Sultanpurso to take a job as an accountant in charge of the stores owned by the Muslim governor Sultanpur Daulat Khan Lodi. There he worked by day but meditated in the early mornings and late nights, singing hymns while accompanied by Mardana, who played the rahab. Soon these meditation and singing events attracted many other locals, who joined Nanak and Mardana in their daily or nightly sessions.
One morning, so the story goes, Nanak and Mardana went to the river Bain for their baths. As soon as he plunged into the river, however, Nanak went under and did not resurface. After searching for him in vain, Mardana reported him drowned. A subsequent search by the entire village discovered no trace of Nanak, and he was presumed dead. He wasn't, though. Instead he was in holy communion with God, from which he reappeared three days later. During this three-day period of communion, God enlightened him, causing Nanak to proclaim:
"There is but One God, His name is Truth, He is the Creator, He fears none, he is without hate, He never dies, He is beyond the cycle of births and death, He is self illuminated, He is realized by the kindness of the True Guru. He was True in the beginning, He was True when the ages commenced and has ever been True, He is also True now."
Sikhism Today
Today, Sikhism represents the world's fifth largest organized religion. Somewhere around 500,000 Sikhs live in the US, the majority of them in California and New York. Sikhs believe in one creator, the divine equality and unity of all mankind, a life of selfless service in the attempt to achieve justice and prosperity for all, and a personal life filled with honest conduct and honest work.
As for The Million Tree Project, Rajwant Singh, EcoSikh's president, is quoted as saying, "Guru Nanak was a nature lover. [He] had talked about nature as a manifestation of God and many of his writings talk about how we need to learn lessons of life from nature."