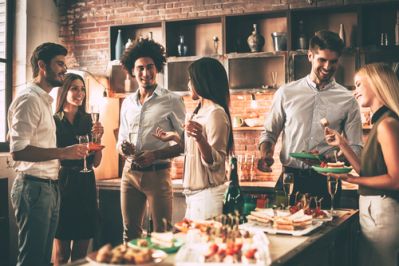 In the Epistle to the Romans, Paul talks about salvation. Romans is often considered to be Paul's magnum opus. Martin Luther considered the book of Romans to be the most important and purest Gospel. One of the key themes of Romans is that salvation is through grace, not works. That doesn't mean that faith doesn't transform people to want to work for their faith. One short statement in chapter 12, verse 13 of Romans tells Christians to "practice hospitality."
Hospitality is defined as "the friendly and generous reception and entertainment of guests, visitors, or strangers." What comes to mind to when you think of hospitality? You might imagine a dinner party in your home with kids at one table and adults at another. Everyone is eating and having a wonderful time. Your house is straight out of "Leave It to Beaver," clean and perfectly decorated. Sounds good in theory, but most people don't have the nuclear, 9-to-5 family from last century.
Does Hospitality Have to Be Difficult?
Maybe you're in the middle of a kitchen renovation that is in its third year. You may not be comfortable with people in your home. Or maybe you work strange hours that make it hard to have friends over. There are all types of complications that can make hospitality seem hard. Instead of giving up on practicing hospitality, what if you change your expectations?
Does hospitality have to occur in your home? Can you reach out to others without the dinner party? Hospitality is about making people feel welcome and appreciated. It's human nature to want to help others, but it isn't always easy to coordinate schedules and activities. Here are some suggestions about offering hospitality when life doesn't make it easy for you.
Go on an Outing Together
Maybe your house isn't visitor-friendly, but you can still take another family to the park, zoo, museum or ice cream shop. Cover the entrance fee for everyone. Many families live on a tight budget, even if they don't talk about it. If the adults can't go, take the kids. A couple of hours of kid-free time can really bless parents.
Take a Meal or Other Treat
Bake cookies and take them to someone to let them know you were thinking about them. Don't wait for a special occasion. Can't bake? Go to your local bakery and pick up a special treat. Blueberry muffins would make a wonderful breakfast on the weekend. Go one step further and take an entire meal. Next time you're making soup, lasagna or meatloaf, make double and take a meal to a family. If you don't like to cook, get a gift card to a local restaurant or get take-out and drop it off.
Make Someone Feel Cared For With a Caring Gift
Don't want to do food? Flowers, plants and balloons are great gifts to make someone feel special. There's no reason to wait for Mother's Day, a birthday or another holiday. Know someone who loves coffee but can't afford specialty beans? Pick up an extra bag when you get your coffee and take it to your friend.
Send a Card
Handwritten notes might seem passé but be honest. When you go to your mailbox, don't you get excited to see a letter or card that is obviously not a bill or advertisement? Why not give someone else that feeling by sending a nice card or note for no other reason than you're thinking of them.
Hospitality Returns a Blessing
It doesn't take much to offer hospitality to those around you. Engage with people to create personal connections. Reach out to others to be a blessing. You will be blessed.