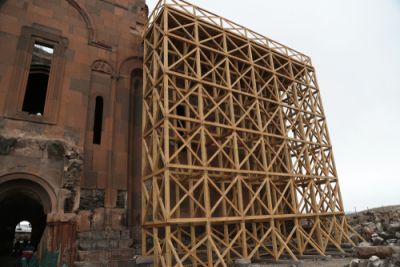 It's no secret that church membership and attendance are way down in America. But one of the unintended consequences of this continuing trend is that many congregations find themselves with huge buildings that they can no longer financially support. This, in turn, has led to what many are calling America's epidemic of empty churches. But it has also led to numerous churches throughout the country being repurposed for new and sometimes unique lives.
Take the old St. Vincent De Paul Church in Brooklyn, for example. Built in the 1800s, St. Vincent De Paul Church, the large brick structure with the imposing bell tower, was home to a thriving congregation until about the year 2000. Then changing neighborhood demographics and an ever-dwindling congregation caused it to be abandoned. Mother Nature soon overtook the place. Shingles blew off, and rain leaked through the resulting holes. A tree actually began sprouting in the bell tower. Ultimately, the Brooklyn diocese decided to sell the building to developers. Today, St. Vincent De Paul Church has morphed into Spire Lofts, a 40-unit luxury apartment complex where one-bedroom apartments lease for $4,812 per month.
Or take White Rock United Methodist Church in Dallas. This sprawling 60,000-square-foot building saw huge weekly church services half a century ago, but today the bottom 15,000 square feet have been converted into a co-working space that includes a workshop for local artisans, such as a florist and a stained glass window artist, as well as a center where African refugees learn English and business skills. It also houses a yoga studio and a community dance studio.
Sell or Adapt
Despite the fact that 70% of American adults still claim to be Christians, between 6,000 and 10,000 Christian churches die each year. Any minister can tell you that the fate of his or her congregation depends on B&B. No, not beds and breakfasts. Butts and budgets. Once a church finds itself deficient on both fronts, the only options for the building are to sell it or adapt it to bring in revenue from more than its now relatively minuscule congregation and its woefully inadequate weekly offerings.
Not surprisingly, many old churches occupy prime real estate in the centers of towns and cities that are themselves still vibrant places. Selling the property to the highest bidder often looks like the best choice, but this can pose serious problems. Many old churches, despite their beauty, have serious structural and cosmetic problems that can make potential buyers wary of investing in what could become a financial black hole. In addition, repurposing an old church often requires rezoning. And don't forget the backlash from former church members still living in the area who have wonderful baptismal, wedding, christening and other memories of this formerly sacred, but now abandoned, building. Even local atheists often decry the demolition of these architecturally rich, albeit religious, buildings.
As one developer recently told The Boston Globe, "Anybody who goes into a neighborhood and buys a church without having some knowledge and sensitivity is asking for trouble." Which is exactly what happened when the local Phi Sigma Kappa chapter in Troy, New York, turned the former St. Francis de Sales Church into a fraternity house. Local residents still decry having to see allegedly drunken frat boys stumbling down the front steps of what once was a house of worship.
Most Popular Renovations
To date, the most popular sacred-to-secular church conversions have included the following:
Hotels
Apartment complexes or condos
Bed-and-breakfasts
Airbnbs
Entertainment venues
Shopping centers
Bookstores
Indoor playgrounds
Community centers
Other not quite so initially popular but ultimately successful renovations include bars, breweries, and wineries. Sometimes it's just a matter of riding out the storm until local residents get used to the idea that their beloved landmark has a new lease on life.