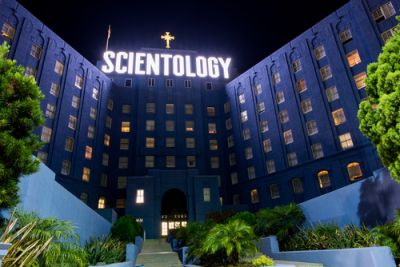 A new lawsuit filed by a former member of the Church of Scientology alleges that the organization engages in abuse, human trafficking, and forced labor. The plaintiff, listed only as Jane Doe, claims she grew up inside the church and at age 15 was appointed as a "steward" to David Miscavige, the Chairman of the Board of the Religious Technology Center, a corporation that controls the trademarks and copyrights of Dianetics and Scientology. There, he and others subjected her to "bullbaiting," an allegedly common church practice in which the victim, a minor, is subjected to abusive, offensive, and sexually explicit language from adults, to which he or she must show no visible reaction.
The "Hole"
The lawsuit also alleges that after later joining Sea Organization (also known as Sea Org; one of the church's offshoots in San Jacinto, California), Doe was relieved of her position and forced to go into the "hole," a prison camp or isolation center used by the church to punish members who violate major Scientology tenets. Doe claims that the only reason she was sent to the hole was because her proximity to Miscavige allowed her to "know too much" about his problems with his wife Shelly, who has not been seen in public since 2007. The lawsuit alleges that Doe was forced to remain in the hole for a year before the church sent her to Los Angeles to work on church publicity projects. Ultimately she escaped from the church in 2016.
As an aside, the commonly held belief about Shelly, formerly known as the "Queen of Scientology," is that Miscavige banished her in 2005. Her current whereabouts remain unknown, but former Sea Org members claim that she is being held against her will at the organization's Church of Spiritual Technology compound in San Bernardino County, California. David Miscavige's own father, Ron Miscavige, who left the Church in 2012, said in a recent interview that "she'll never be free."
Church History
The Church of Scientology was founded in 1952 by science fiction author L. Ron Hubbard. It has long been known for its controversial beliefs and practices, including its stance against psychiatry. It is also known for its aggressive litigious approach to anyone, outsider or former member, who criticizes it.
Sea Org controls all of Scientology's multinational network of management organizations. Sea Org itself is a legally nonexistent paramilitary organization in which David Miscavige is the highest ranking officer.
While the church has achieved the status of a religion in some countries, including Mexico, Italy, South Africa, and Spain, most countries consider it a business. In the US, the IRS designates it as a tax-exempt nonprofit. Other countries consider it a cult or a manipulative commercial enterprise.
Despite longstanding allegations by former church members, often highly publicized, of the church's abuse, harsh physical labor, and brutal intimidation tactics, the new lawsuit is the first time in the #MeToo era that a female plaintiff has taken the church to court in an attempt to hold it accountable for its alleged actions.
Further Lawsuits Promised
Marci Hamilton, one of Doe's attorneys, promises additional lawsuits in the near future. In a recent statement to the Huffington Post, Hamilton said, "We learned through the Catholic Church cases and then with the development of the Me Too era that organizations that are held accountable in the courts end up being forced to do the right thing. It's not enough for people to tell their stories and simply come forward. You have to subject them to the legal system."
Church Response
Not surprisingly, the Church of Scientology calls Jane Doe's allegations "unfounded." Its version is that Doe joined the church voluntarily and traveled the world freely while working for it, always living in comfortable surroundings. Church spokesmen also point out that federal courts have determined that service in the church's religious order is voluntary and protected by the First Amendment.