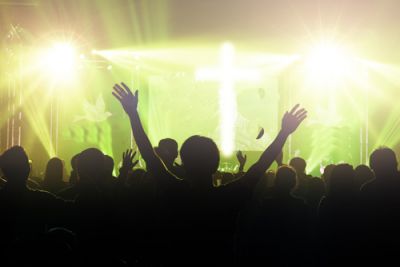 Michael Jackson might be the King of Pop, but he's got nothing on Mahalia Jackson, who incidentally has the same last name as Michael but is unrelated to the pop singer. Mahalia was known for being a civil rights activist, but her contralto voice and love of singing brought her to the stage. Mahalia came to be known as The Queen of Gospel. She recorded hundreds of songs on 30 albums during her career. Over a dozen of her 45 RPMs (single hits) sold more than a million copies. She is a legend in the music industry.
Mahalia's Journey
Mahalia was named Mahala at birth, after her aunt. She grew up in New Orleans in the early 20th century surrounded by family in a small three-room home that housed 13 people. Her mother died when she was four or five years old. An aunt assumed responsibility for Mahala and her brother. It wasn't a pleasant childhood. Children in the family (Mahala and her cousins) worked sun-up to sun-down and did not attend school. Church was the bright spot for Mahala, because she loved to sing.
When Mahala was 16, she moved to Chicago. It was here that she started on the road to becoming a professional musician, first touring churches with her choir and another gospel group. She paid her dues by recording with local labels, but it would take 20 years for her to rocket to fame. Mahala added the "I" to her name sometime around 1931, making her Mahalia, but little is known about her during this time.
Mahalia had a recording in the late 1930s that did not do well financially. She was let go from this label. Ten years later, she signed with Apollo. Under the Apollo label, she sold eight million copes of "Move On Up a Little Higher." Stores could not get the record stocked fast enough to meet demand. Following the release of "Move On Up" she not only became a concert artist in the U.S., she rose to fame in Europe.
Carnegie Hall welcomed Jackson in 1950, making her the first gospel performer in the historic venue. She would go on to sign with Columbia Records and find success in the mainstream. She had a radio series on CBS. John F. Kennedy invited her to perform at his inaugural ball. In 1963, Jackson sang at the March on Washington, where Martin Luther King Jr. gave his "I Have a Dream" speech. (She would later sing at his funeral, and his widow gave a eulogy at her funeral.)
Mahalia became involved in civil rights long before the March on Washington. She agreed to sing at a concert to raise money for the bus boycott in Montgomery, Alabama, in 1956. With all her fame around the world, she encountered racial prejudice in own town of Chicago when she tried to buy a house. She wanted to break down the hate between whites and blacks with her music.
Listen to Mahalia
Although june is African-American Music Appreciation Month, it's never too late to take some time this month and listen to a few of Mahalia's most famous songs:
His Eye Is on the Sparrow
Peace in the Valley
We Shall Overcome
Joshua Fit the Battle of Jericho
Roll, Jordan, Roll
What a Friend We Have in Jesus
Mahalia once said, "Blues are the songs of despair, but gospel songs are the songs of hope."
Remember Mahalia
Her career ended in 1971. She died the following year, at the young age of 60. Mahalia refused to sing secular music, even though she could have made more money doing so. Her career never suffered. She mentored Aretha Franklin, established scholarship funds for young people to attend college and supported the civil rights movement financially. Mahalia opened the door for many gospel singers.