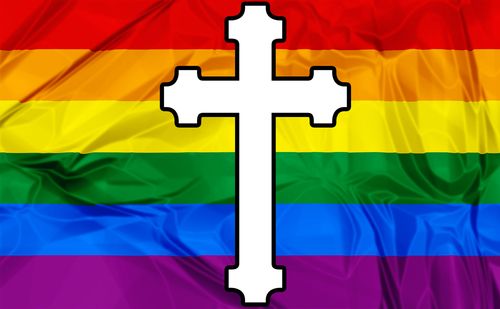 Many LGBTQIA+ Christians struggle to reconcile their gender or sexual identities with their desire to join a faith community. If you are looking for a place to worship, you may be wary of congregations that seem friendly on the outside because you know how quickly the judgment they preach on the inside can turn against you. The good news is that you don't have to sit around and wait for that to happen. With a little preliminary detective work, you can probably find a church in your area that is not only welcoming to its LGBTQIA+ members and visitors but also values their full participation in the life of the church.
What Do Others Say About Them?
Your best resource on how the local churches treat the LGBTQIA+ community is the community itself. Ask your friends who have experience with faith groups in the area if they have any recommendations. It may also be prudent to ask which groups you should avoid. If no one has any useful information or you get conflicting messages, try a quick search for your city on gaychurch.org. The website is run by the GALIP Foundation. All churches listed on the website have confirmed that they are affirming churches, meaning that not only do they believe being LGBTQIA+ is not a sin but also encourage full participation for all members.
What Do They Say About Themselves?
Once you have a list of potential places to visit, the next step is looking at each church's website. Look at the welcome statement. Does it explicitly include a welcome to LGBTQIA+ visitors? If not, you may have to dig a little deeper to see if it's the place for you. Keep in mind, of course, that even if a church does welcome people who are not straight or cisgender, that doesn't mean it affirms them. Sometimes "welcome" is code for "come in so we can fix you," and that is probably not a place you are going to be comfortable or happy. Many churches, however, go beyond a mere welcome statement to be actively, intentionally inclusive. For example, More Light Presbyterians and Lutheran Reconciling in Christ communities are congregations that have undergone actual training on how to include and affirm LGBTQIA+ people in their services, outreach and membership.
How Does the Pastor Interact With You?
Even if everything looks great on the internet, meeting the actual people of the church can be a tense experience. It's a good idea to start with the pastor. Set up an appointment to speak to him or her about the church's stance on LGBTQIA+ issues and inclusion. You may not click with the pastor's personality, but you should have a solid idea by the end of this meeting whether this place will be a good community for you or whether you should keep looking elsewhere.
How Does the First Visit Go?
You may find several churches that you want to visit during services. If possible, find a friend to go with you. That way, it's easier to gauge whether any awkward feelings you experience are the result of your own nervousness or something you should actually be concerned about. Don't ignore your gut altogether, though. Even if you can't quite put your finger on what exactly is wrong, if you don't feel comfortable there, you are not obligated to give it a chance until the experience becomes bearable. You deserve a church family that loves you and makes you feel at home, just like everyone else.
Looking for a church where you are accepted and affirmed may not be a fun process, particularly at the beginning, but the outcome can be life-changing. A church that accepts you just as you are can be instrumental in your spiritual growth.