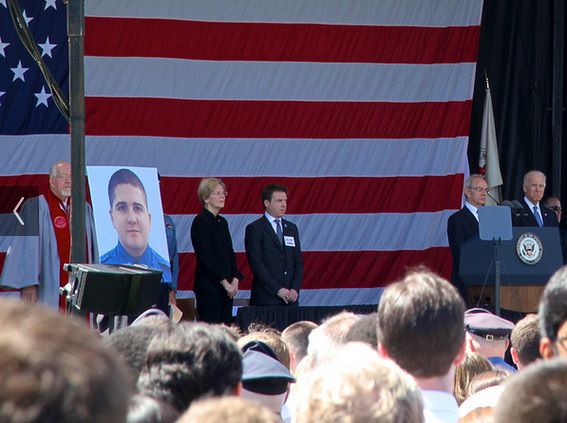 April 15, 2013 will never be forgotten by the residents of Boston; it is the date of the Boston Marathon bombings. The bombs that went off near the end of the marathon killed three spectators and injured hundreds more. A lesser known story that occurred in the days after the bombings and during the manhunt for the suspects was the death of police officer Sean Collier. A funeral ceremony for MIT officer was held on April 18, 2014.
The Life of Sean Collier
Sean Collier always wanted to be a police officer. He attended Salem State University studying criminal justice, and also volunteered as an auxiliary police officer. He ultimately achieved his dream by becoming a Massachusetts Institute of Technology (MIT) police officer. Collier was in the wrong place at the wrong time on the night of April 18, 2013. Bombing suspects Tamerlan and Dzhokhar Tsarnaev were on the run as the FBI had recently released photos and video of them. The brothers needed more guns; they came across Collier in his parked police cruiser and shot him for his.
In Memoriam
At a remembrance ceremony for MIT officer, marking the one year anniversary of his death, friends, family, and colleagues paid tribute to Collier. In his honor, the intersection of Vassar and Main streets in Cambridge will be renamed Sean Collier Square. A permanent memorial is being built to replace the temporary one installed in October. There has been a substantial amount of money raised in Collier's memory; the MIT Strong Boston Marathon team raised $150,000, and $500,000 has been contributed to date to the Sean Collier Memorial Fund. In addition, the funds raised by Team Collier Strong will help pay the tuition for one student a year for a criminal justice program.
One year after the Boston Marathon tragedy, the friends and family of the many victims, and the city of Boston are still trying to heal. The remembrance ceremony for MIT officer is one step more in the grieving process.