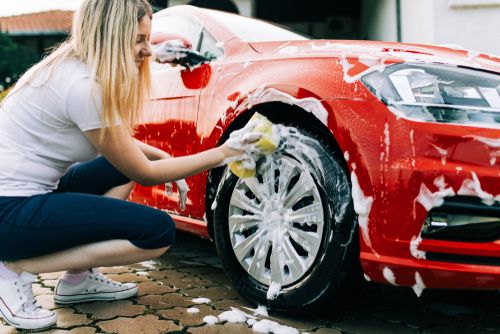 When you have teenagers in your family, you expect that they will bring home fundraising brochures and projects when they are involved in extracurricular activities. During a pandemic there are even more needs than usual in the church and community that a successful fundraising campaign can meet. Even during a normal year's bad flu season, however, many parents are concerned with the wisdom of more traditional ideas that require a lot of physical contact with others. What if there is a way for youth to raise money while still maintaining proper social distancing? It may be as simple as giving your favorite ideas an added twist.
Car Wash
During the summer, it is not uncommon to see groups of young people holding signs, beckoning passersby to stop and get their cars washed. This process is pretty low-contact already, so you may not even have to tweak it. Strangers drive up, hand one of the youth their money and leave with their cars looking shiny and clean. As an added bonus, it all takes place outside, which is less conducive to person-to-person germ spread than holding an indoor event.
If you want to put even more social distancing measures in place, you can eliminate the cash payment component. Have each young person collect pledges for every car they wash, with a cap of 100 cars. Then make signs advertising that the car wash is free. Within a few hours, they will easily wash at least 100 cars, turning every 25-cent pledge into a $25 donation. People get to donate to a good cause, all donations can be collected electronically, and the youth still get to serve the community while raising money. 
Product Delivery
Many groups have a lot of success with product sales. They either work with a company that has a fundraising program or one that offers wholesale pricing on products that they can then sell for a markup. This type of fundraising is typically a pretty high-contact affair, though. You can significantly lower the risk by offering contactless delivery instead of setting up a table inside the church.
Your church may have a company with which they coordinate annually for fundraising, and the company may already have ideas in place about how to deliver products efficiently. If your organization purchases from a fair trade coffee and tea company, you can encourage members to bring coffee hour to their homes by purchasing products the youth will later deliver. Fundraising can even play a double role of supporting the local community by having youth deliver dinner from a local restaurant to participating members.
Outdoor Event
Many of the risk factors for the spread of disease apply mostly to indoor areas. Consider having an outdoor event to raise money. You can take the appropriate measures more easily when you're not confined to one room.
One of the things people may miss the most from not meeting in person is singing together. Host a parking lot concert. You can sell tickets online and have a stage that is big enough for a small number of young musicians to perform together while still practicing responsible distance. Another idea is an open-air local makers' market. Local artisans pay to set up booths to sell their creations outside, and you may even decide to charge a small entrance fee to patrons. Between the booth rental, entrance fees and additional donations they're sure to get, the youth can raise quite a bit of money with minimal risk.
A global pandemic or even a particularly nasty flu season can change the way people are used to doing a lot of things. Your organization's youth don't have to put their fundraising efforts on hold, though. With a few minor adjustments, they can still raise money for their favorite causes or for future plans while maintaining proper social distance with others.