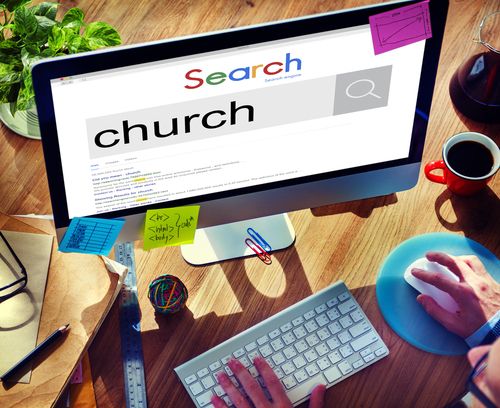 Looking for a church used to be a primarily in-person experience. Now, however, with the whole internet in the palm of everyone's hands, it's your church's website that is more likely to make a first impression, not your hospitality team. There are several elements that your site needs to intrigue seekers and help guests feel welcome.
Statement of Faith
The first thing people want to know before they visit your church is what you believe. A clear statement of faith helps them decide if your community is a good fit for them. Even within the same basic belief system, there are a wide range of practices and values, and your website needs to clarify where you stand on issues such as social justice, LGBTQIA+ inclusion and outreach.
Sermon Examples
Another way to illustrate how your church views its purpose is through sermons. By posting clips or transcripts of the preacher's talks online, guests can better understand how scripture and other sources are made relevant to modern life. If they are wavering between a few churches, finding sermons they really enjoy may be the final deciding factor.
Church Life Activities
Some people want to come once a week to worship, but many visitors will also be looking for ways to get more involved in the life of the church. Your home page should have a clear link to your top ministries:
Youth and children's activities
Scripture or text studies
Social groups
Volunteer opportunities
Committee services
Meeting Times
Once new visitors decide to attend a service in person, they need to know the days and times that are available. One of the most prominent pieces of information on your website should be when you meet. This reduces uncertainty for guests who are likely already feeling a little nervous about meeting people or trying a new church. Try to put this information near the top of the home page.
Contact Hours and Information
Some people may be curious but still cautious, especially if they have had bad past experiences with church attendance. No matter how much information you have on your website, they may have additional questions that it doesn't answer. Rather than risk making your site unmanageable with more information than the average visitor wants to sift through, add contact information for the pastor and office staff as well as the hours during which they can be reached.
Online Donation Option
One element that is useful for visitors and members alike is an online donation button. Very few people carry cash anymore, and even fewer bring their checkbooks to church with them. Your leadership may balk at the idea of asking for money on a site that anyone can visit, but the advantages outweigh the potential disadvantages. Having a place on your website where people can donate makes it easy for everyone to do so. It doesn't have to be the first prompt that pops up when visitors click on the home page, but it should be relatively easy to find in the sidebar or in the links across the top of the page.
Mobile-Friendly Format
When you picture people visiting your website, you likely see them sitting at a desktop computer or laptop. The statistics say this isn't always the case. Over half of the hits your website gets come from mobile devices. It logically follows that your site design needs to be mobile friendly. After all, how can people get the information they need off the site if they give up because simply getting to the details is too frustrating?
Most of the people who visit your church will do so because they have either been invited by a member or have seen your website. Including crucial information on the site makes it more attractive to people looking for a place to belong.