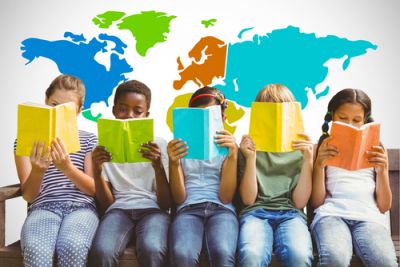 Addressing race and racism isn't always easy, but studies show that children as young as three years old can recognize bias and prejudice. Kids may not have the vocabulary to talk about racism, so it's up to adults to help them find the words. Books are a practical way to initiate dialogue. In honor of Martin Luther King's birthday, here are eight books that will help you teach the children in your life about civil rights, racism and resistance.
"Strange Fruit: Billie Holiday and the Power of a Protest Song"
This book by Gary Golio is for elementary school children. You'll want to make sure to listen to Holliday's recording of the song that changed her life. The songwriter was a Jewish man who was "haunted by a photograph of a lynching." The song was named "song of the century" by Time magazine in 1999, but at the time it was not well received by New York lawmakers.
"Crossing Bok Chitto: A Choctaw Tale of Friendship & Freedom"
Tim Tingle is an Oklahoma Choctaw who has written many award-winning books for children. He wrote this book as a tribute to Native Americans who helped the slaves. The book was written for ages 7 through 13. It's set before the Civil War, before the Choctaw were forced to walk the Trail of Tears.
"Preaching to the Chickens: The Story of Young John Lewis"
John Lewis played a key role in the civil rights movement, but he doesn't get as much recognition as some of the others. In this book for early elementary readers, Jabari Asim takes a look at the boyhood of a man who would grow up to be a passionate leader that is still taking on activism today.
"Harvesting Hope: The Story of Cesar Chavez"
Author Kathleen Krull is an award-winning author of nonfiction for children. She takes on the story of Chavez in this book for early elementary readers. Chavez is known for being one of America's greatest leaders, but he wasn't always so bold. His family was poor. He was shy. But he learned how to speak up to bring change.
"Shining Star: The Anna May Wong Story"
Paul Yoo honors Wong in this book for elementary readers. Although most people wouldn't recognize Wong's movie list, she was a pioneer in cinema. She opened doors for Asian-American actors at a time of discrimination. She came from a meager background but followed her dream to be a Hollywood star.
"Moses: When Harriet Tubman Led Her People to Freedom"
Carole Boston Weatherford penned this poetic tribute to Tubman that was written for elementary level readers. It focuses on Tubman's faith, but accurately portrays the harsh life of slavery. Kadir Nelson's beautiful illustrations add dimension to the story, even though many are dark, dramatic paintings.
"Sit-In: How Four Friends Stood Up By Sitting Down"
In 1960, four college students staged a peaceful protest at Woolworth's lunch counter for civil rights. Andrea Davis Pinkney tells the story of how they dared to sit at the "whites only" counter. Elementary readers will be drawn into the tale through the masterful illustrations of Brian Pinkney and the food metaphors that emphasize the determination of the men who just wanted to undo segregation.
"Let It Shine: Stories of Black Women Freedom Fighters"
Andrea Davis Pinkney tells the stories of 10 brave women who fought for civil rights, freedom and equality. Elementary readers will recognize Harriet Tubman and Rosa Parks, but many of the biographies included are for women whose stories get overlooked, such as Mary McLeod Bethune, Shirley Chisholm and Biddy Mason. Stephen Alcorn provides stunning illustrations that will engage any reader.
Talking to children about civil rights and racism might not be easy, but kids are smart and eager to learn. These books will offer great ways to open that dialogue and encourage the children in your life to keep learning.