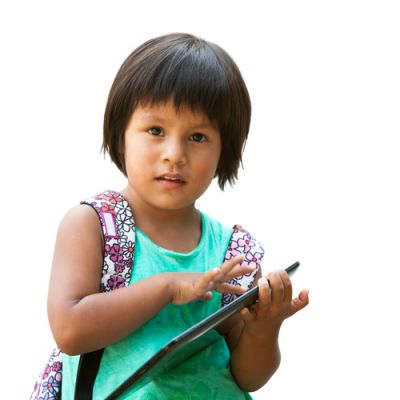 Albert Einstein said, "Education is what remains after one has forgotten everything he learned in school." Giving kids a look at history through the eyes of people who were there can help them retain the information much better than simply listening to lectures. To celebrate back-to-school month, here's a selection of books starring Native American girls that will help students discover more about the indigenous peoples' cultures.
"Red Bird Sings: The Story of Zitkala-Sa, Native American Author, Musician, and Activist" by Q. L. Pearce, Gina Capaldi
Recommended for elementary school readers, this book focuses on a Native American reformer who inspired others through music. Zitkala-Sa worked hard to preserve Native American culture and rights. Music healed her spirit when she left her home in South Dakota to go school in Indiana. She took her talent and used it to help her native people.
"Native Women of Courage" by Kelly Fournel
This book is part of the Native Trailblazer Series for ages 8 and up. This particular book in the series showcases 10 Native American roll models from across North America. Wilma Mankiller, the woman Chief of the Cherokee Nation, has a chapter. Susan Rochon-Burnett, the first Canadian woman granted an FM broadcast license, was a Metis woman who overcame many hurdles.
"Who Is Maria Tallchief?" by Catherine Gourley
Tallchief was an Osage girl who went on to become a prima ballerina. She not only had to move outside of her culture, she had to change tradition. In the Osage community, women and girls are not allowed to dance. This picture book for children tells the story on how she reached the top of her art form.
"Marooned in the Arctic: The True Story of Ada Blackjack, the 'Female Robinson Crusoe'" by Peggy Caravantes
Ada Blackjack, an Inuit, went on an expedition with four white men in 1921 to claim a Siberian island for Great Britain. Three of the men left. One man died. Blackjack stayed on the island for two years, surviving alone. After she was rescued, the press called her a real-life female Robinson Crusoe. The book is recommended for ages 12 and up and is filled with much more than just the story of Blackjack's life.
"Soft Rain: A Story of the Cherokee Trail of Tears" by Cornelia Cornelissen
This historical fiction novel tells the story of 9-year-old Soft Rain who must leave her home with her mother. The soldiers send the pair on the Trail of Tears. It's recommended for ages 7 to 10, but it's a great introduction to the realities that occurred on the journey. Can Soft Rain retain her courage and hope to be reunited with the rest of her family as she watches many of her people die on the Trail?
"I Am Not a Number" by Jenny Kay Dupuis, Kathy Kacer
The American government was not the only one that stomped on the rights of Native Americans. This historical fiction tale is about the Nipissing First Nation people of Canada. The heroine, Irene, is sent to a boarding school, miles away from her home. The boarding school cuts her hair and calls her "759." This story tells the tale of how she resolves to retain her identity. It's recommended for children 8 to 10.
"The Ugly One" by Leanne Statland Ellis
This novel for middle-grade children is about the Incan Empire. Micay, the heroine of the story, has a deep scar that disfigures her face. When a stranger gives her a baby macaw parrot, it changes her life. The book's message of beauty being more than just about the body makes this a good read. It includes information about the culture and history of the Incan people, which sets it above other books about beauty being more than skin deep.