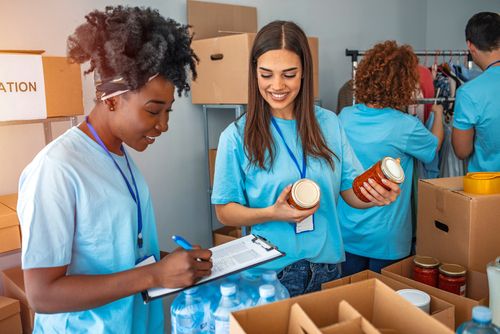 Many young people in faith communities get their first volunteer experience by going on short-term mission trips. They identify a project somewhere and offer their assistance. In the week or two that they're on location, they get a crash course in the culture and the specific problem they are trying to address. These young people often return with a sense of accomplishment, and they feel good about the efforts they have made.
While their hearts are in the right place, these eager volunteers often don't have the time during mission trips to make a lasting impact on the community they're helping. More often than not, these trips serve to benefit those supposedly giving the aid more than those receiving it, which is likely to drain rather than boost resources. If you and others in your faith community want to lead the youth in volunteer efforts with a more positive impact, there are several alternatives to consider.
Long-Term Local Community Service Projects
The place where service-minded people are likely to make the biggest difference is right at home. While serving at the local soup kitchen may not feel as exciting as spending a week volunteering at a school in Mexico, it offers the opportunity for long-term involvement. This is the true life of a volunteer. As they develop relationships with the people they work with, the youth get to see how they are making a difference right where they live.
As residents of the city where you serve, you probably have more insight into the specific needs around you. People are more likely to understand the politics and systems that allow those in need to fall through the cracks when those policies also affect their own daily lives. Working with local groups helps you get to know even more about how civic choices impact people's lives.
Fundraisers for Reputable International Organizations
The church youth group is where many young people learn how to raise funds for worthy causes. Of course, your group can always combine their local volunteer efforts with a fundraiser to raise awareness and support the local charity with a financial donation. If there is a particular cause the youth want to support but no local organization that does that kind of work, they can always donate the proceeds of their fundraiser to an international relief group:
Personal Education and Commitment to Change
Overarching societal inequities cannot be resolved with a few hours of community service. Real change often starts with ordinary people adjusting their lives to make a difference. There are few easy answers. To lead youth in the lifelong quest to become responsible citizens who understand how to turn their communities, the country and the world into better, more equitable places, the adults in the congregation must model how that process works.
There are many ways you can facilitate learning and personal growth. For example, if you want to understand more about what you can do to combat racial inequity in your city, start with a group discussion of a book written by a known scholar in the field. Learn about fair labor practices and adapt your spending habits to support more sustainable trade. A faith community is a great place to hash out what you are learning about the issues that are important to you because you can easily get together to share what you learn and brainstorm ways to address them.
The motivation behind popular short-term mission trips is a good one overall. They encourage youth to expand their perspectives to see the needs of the world around them. However, this lesson may be more impactful for both the young people and those they serve through alternative efforts.