Officiating a Wedding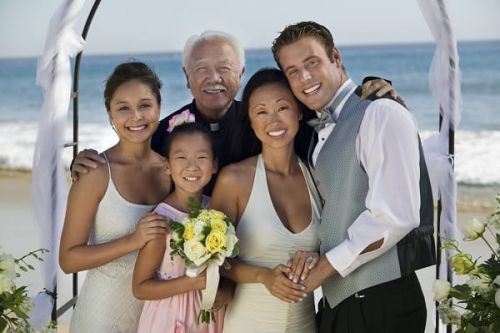 Officiating a wedding is a big responsibility, one that can intimidate even the bravest of souls. But there's no need to worry; at the Universal life Church, we've got your back. Read on to learn about the basics of serving as a wedding officiant.
Check the Law
So, you've agreed to marry your best friends. That's great! Now you'll need to make sure to get any legal paperwork squared away before the ceremony. With a few exceptions, this should be filed with marriage officials in the county where the couple is planning to hold the wedding. Research the state wedding laws and contact the county clerk to ask if you need to register prior to the wedding day. This is an important step, so make sure to get it done with plenty of time before officiating a wedding. We also offer thorough guides on the steps to performing a marriage for each state if you want more information.
Plan the Service
After talking to the couple to understand their wishes, it's time to outline the service in detail. The following should all be taken into account:
The order of the service. Does it begin with a prayer or song? Maybe a short speech?
The musical numbers. Is there a prelude? A postlude? Any soloists required?
Any special readings. Does the couple have a favorite poem, quote, or scripture they wish to include?
The vows. Is the couple writing their own vows, or do they prefer traditional vows?
The names of all of the participants. Where will they sit or stand? How will they enter and exit the wedding ceremony?
Practice the Ceremony
As the wedding officiant, you should practice going over the ceremony line by line. Practice out loud. Do it in front of a mirror or to your cat or dog for greater effect. If time allows, consider attending a rehearsal with the entire wedding party and run through the order of the service with them. Make sure everyone knows their part and when they'll be called on.
After you've done all the prep work, simply try to relax. Remember that when officiating a wedding, things rarely go exactly as planned. Plus, any quirky mishaps that might occur will make for great stories years down the road.