Wedding Officiant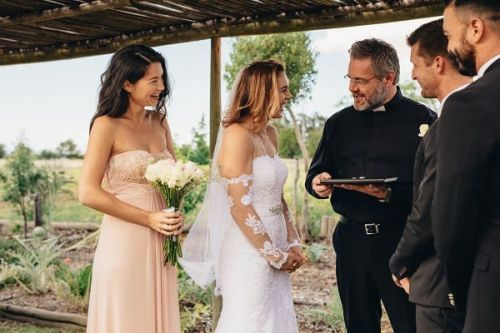 Okay, so your best friend is getting married and has asked you to serve as the wedding officiant. You're probably nervous – you've never performed a wedding ceremony before and have no idea how to proceed. Maybe you're not sure it's even legal. Never fear, the Universal Life Church is here!
The Legalities of Officiating
Most states require a wedding officiant to be a public servant, such as a judge, or an ordained clergy member. Becoming a judge is a tall order, but fortunately getting ordained is fairly simple. You can join the Universal Life Church in just minutes – all you have to do is fill out a short online form and press submit! Once ordained, be sure to research the specific wedding laws for the county and state where you want to officiate. Some places will require you to formally register as a minister, while others take a more relaxed approach.
The Joys of Performing Weddings
Nothing makes a marriage more special than to have the ceremony performed by a friend or family member. Many couples prefer to write their own vows and plan a unique service that reflects their love and personality. As a bona fide wedding officiant, you can assist the couple in personalizing this important day to make it as memorable and meaningful as possible.
The Job of Wedding Officiant
To go above and beyond as a wedding officiant, consider a few tips:
Talk to the couple extensively beforehand to get a good understanding of what kind of marriage ceremony they want.
Read different types of wedding scripts and come up with a few sample drafts for the couple to choose from
Expand your knowledge of popular wedding music, suitable readings, and other aspects of the ceremony. You may be asked to give advice in these areas.
Find your style! Are you a hipster minister, a hippie minister, a happy minister? Decide what type of vibe you want to give off, and dress accordingly.