Asking a Friend or Family Member to Officiate Your Wedding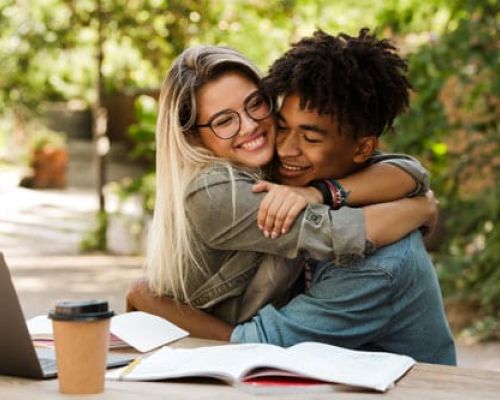 Are you considering asking a friend to officiate your wedding? Having a friend or family member officiate your wedding ceremony can give it a special, personalized touch. And it's no wonder why this route is becoming increasingly popular – selecting an officiant who knows and loves you adds an extra layer of meaning to the ceremony that simply can't be replicated by hiring a professional who you've never met before.
However, let's be honest: not everyone is born for this type of role. When asking a friend to officiate your wedding, it's important to choose someone who can handle the responsibility. Here are some tips for how to have a friend officiate your wedding and how to make sure you select the right person.
Dos and Don'ts for Choosing Your Officiant
Do ask someone who is articulate, charismatic, and comfortable speaking in front of a large audience. You want your wedding audience focused on the ideas your officiant is conveying – not their uncomfortable pauses, "ums", and "uhs." You also want someone who you see eye-to-eye with and is willing to shape the ceremony around your preferences. If you're planning a non-religious ceremony, for example, don't ask your religious Aunt Peggy who might insist on slipping some unwanted Bible verses into the ceremony.
Don't ask someone who may not appreciate the gravity of the occasion. If there's a chance your buddy Greg from college might go off-script and start roasting you mid-ceremony, it's probably best to choose somebody else. You can still include them in the ceremony, of course, but keeping them away from the microphone might be preferable.
Do ask the person early. "Hey, will you officiate my wedding this weekend?" is not a very realistic request, and could be pretty overwhelming for some people. Instead, decide who you want to ask early on in the planning process and approach them with plenty of time before the ceremony. This will give you a chance to work closely with your officiant to develop a polished script that includes all your desired elements. Crucially, it will allow them ample time to practice – a big confidence booster heading into the ceremony, especially if it's their first time officiating.
Don't be offended if the person says no. Officiating a wedding is an honor, but it may be a commitment your chosen friend or family member isn't up for. If they fear they can't give it their all or they know they aren't a confident public speaker, don't take it personally. If you're having trouble finding someone to officiate your wedding, you can use the Find a Minister™ tool on Get Ordained to search for an officially ordained minister best capable to fit your needs.
Helping a Friend Get Ordained
Once you've found the right person and they've agreed to perform the ceremony, the next step is to help them get ordained to become a legal officiant. Fortunately, this process is quite straightforward – just direct them to the ordination page here on our site where they can submit an application.
Although ULC ordinations are recognized by marriage officials across the country, keep in mind that your officiant may need documentation from us proving they really are an ordained minister. To learn more about what is required in your area, visit our map of state wedding laws. Any required documents can be ordered from our online store.
Before the Ceremony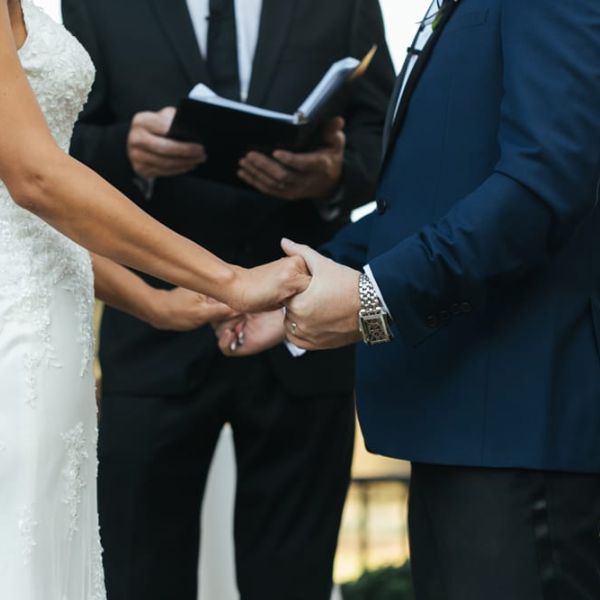 When you're having a friend officiate your wedding, make sure to practice the ceremony with them at least a few times, even before the dress rehearsal. By practicing, your officiant will not only be a more self-assured speaker, but they'll also be able to work out the important smaller details like timing, positioning, and how to transition smoothly between each part of the ceremony. If your friend needs a template to brainstorm a ceremony speech, our Wedding Script Generator has plenty of options including a universal non-denominational wedding, beautiful garden ceremony, and many more.
Don't forget to iron out other logistical points, too, such as what they should wear. You don't want your officiant to clash with your wedding colors, show up underdressed (or overdressed), or in some other way draw unwanted attention. Keep in mind that while all eyes might be on the bride and groom, the officiant is also center stage, so make sure they have an appropriate outfit for the occasion.
Finally, it's a good idea to be transparent about compensation up front. The last thing your wedding day needs is an awkward misunderstanding about money. While it's quite common for friends of the bride and groom to perform the ceremony as a gift, you should never assume that's the case. After all, they are providing a valuable service. And even if you and the officiant agree that no payment is required, it's still a good idea to get a nice gift for them as a thank you.
Related: How Much Should a Wedding Officiant Charge?
Personalizing Your Wedding
One of the best parts about choosing your own wedding officiant is that it ensures you'll have complete control over the ceremony, from start to finish. Don't hesitate to take advantage of this! As you collaborate with your officiant to write the ceremony script, perhaps work in a few jokes or fun references about your relationship, or include an additional ceremony element that guests might not be expecting. Outside of the basic legal requirements for a wedding, remember: this is your day, so plan it however you like. And with a friendly face up there leading the proceedings, the ceremony will be all the more meaningful and memorable. What could be better?